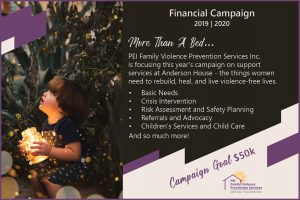 We invite you to join the 2019/20 Annual Financial Campaign for PEI Family Violence Prevention Services. This year's campaign focuses on services – the things women need to rebuild, heal, and live violence-free lives.
The shelter offers so much more than a bed.  We provide basic needs, crisis intervention, risk assessments and safety planning, children's services, and so much more. Leaving an abusive situation can be one of the hardest things a woman will ever have to do. Even when she is feeling depleted she will have much to take care of. We can make referrals and help women navigate systems that can be complicated and overwhelming.  We are honoured to be able to support women in their journeys to living a life free from violence. Our campaign goal this year is $50,000. We believe with your help we can achieve this goal!
"I am going to [remember] you all my life for your unconditional help during these months. All of the support, patience, and love you gave me will remain with me always. "
 "When I walked through the door at Anderson House the most wonderful feeling of safety washed over me. I am forever grateful to the lovely ladies who work at the house."
We rely heavily on community support and gifts like yours to provide quality services and programs. We hope you will give generously to our Annual Financial Campaign and help us support the women and children in our community who need our services. Please know that we are grateful for a donation at any level. Together we make a difference!
Over the past year:
Outreach offices served 282 women and their 305 children
Anderson House sheltered 83 women and 43 children
Second Stage apartments housed 34 women and 39 children
Youth programming was delivered to 245 grade seven students
44 public presentations and trainings on family violence