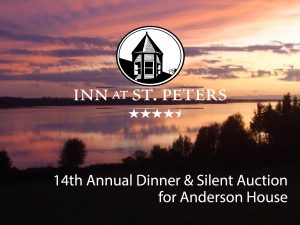 For the last 13 years The Inn at St. Peters has held a dinner and silent auction in support of Anderson House raising over $83,000 (PEI Family Violence Prevention Services is a non- profit charitable organization founded in 1980. Anderson House is a provincial emergency shelter for women and children who are in need of safety because of violence in their lives. Anderson House services are available 24 hours a day, 7 days a week and are supported further by outreach services, information lines and support groups). We wish to continue this event and therefore we will be holding our 14th Annual Dinner and Silent Auction on Friday May 26th, 2017.
Tickets for this event are $150/person which includes a 5 course dinner with wine (tax receipts for the charitable portion of your ticket will be issued). A silent auction and cocktail reception (cash bar) will commence at 6:30 with dinner served at 7:30. For those of you who wish to include an overnight stay we will be offering our guest rooms at $125 per couple which will include your breakfast the next morning.
We hope to see you on May 26th. For more information or to order tickets for you and your guests please call Karen Milligan at (902) 961-2135 or (800) 818-0925.