Public Information Session
UNDERSTANDING THE EFFECTS OF SEXUAL VIOLENCE AND ABUSE
Tuesday, February 8th, 6:00PM – 7:15PM
To register: https://us02web.zoom.us/meeting/register/tZUuduGoqjojHNxlF6WpdHYKimzFMwZGx-wy
*Simultaneous translation in French will be available
Service Provider Sessions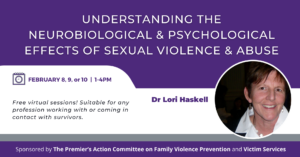 This session will be offered three times with a specific focus* for
Justice Services– Tuesday, February 8th, 1-4pm
To register: https://us02web.zoom.us/meeting/register/tZUrdu-sqjIsH93myPHFwjx7teLH7eUbZJb1
Human Services – Wednesday, February 9th, 1-4pm
To register: https://us02web.zoom.us/meeting/register/tZwsf-2vrjksHdQ3pNI9Q7wlPTEB4HAYkX3C
Health Services – Thursday, February 10th, 1-4pm
To register: https://us02web.zoom.us/meeting/register/tZEpduGorjIqE9Hxyj-APeVWfNVYG4XMsWF2
*There will be overlapping content in these presentations, if you cannot attend on a particular day, please attend the session that works best for your schedule.
This workshop is relevant for any profession working with or coming in contact with survivors. It includes:
Understanding developmental trauma first so we can understand the complexities of some people's responses and needs
Recognizing and understanding trauma responses in victims of sexual abuse and/or domestic violence
Working with PTSD diagnoses
How non-clinical service providers can support someone who has experienced trauma (i.e do no harm) and how to help a person navigate through their healing journey
Confirmation of attendance can be provided for continuing education credit.
Note: These sessions will not be recorded