FOR IMMEDIATE RELEASE
 Sekisui Diagnostics Supports Anderson House
Charlottetown, PE, July 13, 2021 – PEI Family Violence Prevention Services Inc. (PEI FVPS) received a financial donation of $9000 for Anderson House from Sekisui Diagnostics. The PEI based company manufactures and researches clinical chemical reagents for use in hospitals and clinics around the world. They are committed to addressing the issues of social justice and racial discrimination and supporting islanders affected by these challenges.
"We choose to support Anderson House with this financial donation because we believe in their work providing safety, education, and assistance to women, children, trans and non-binary individuals due to violence in their lives", explained the Sekisui Corporate Responsibility Team. "They provide an essential service across all parts of the island".
"We are very grateful for this donation. It's wonderful to see Sekisui Diagnostics direct funds towards ending social injustice. They are hoping other companies will be encouraged to support community initiatives that are important to them" said Danya O'Malley, Executive Director, PEI FVPS.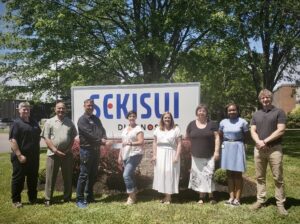 From left to right, representatives from the Sekisui Corporate responsibility team include Darren Cash, Gabino Penalver, Eugene Howatt (Site director) presenting Danya O'Malley of Anderson House with a cheque for 9k, Natasha Benoit, Angela Tapu, Mary-Ann Aliu, and Chris Grandy.
About PEI FVPS
PEI Family Violence Prevention Services Inc. is a non-profit, volunteer organization, based on the principles of justice, equality and peace. We are dedicated to the eradication of physical, sexual, and emotional violence in families through advocacy, prevention programs and the provision of quality services designed to empower and support those affected by family violence. PEI FVPS supports over 400 families across the province annually by providing services such as:  emergency shelter (Anderson House), a 24/7 crisis and support line, outreach services, group programming, transitional and permanent housing, public education and training, and youth programming.
 For further information:
Danya O'Malley, Executive Director
danya@fvps.ca or 902-894-3354 ext. 225